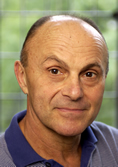 Odporúčam pozrieť si rozhovor s profesorom Eugenom Famom z University of Chicago, jedným zo zakladateľov moderných financií, o teórii efektívnych trhov a finančnej reforme v USA. Profesor Fama v rozhovore na stanici CNBC zhodnotil finančnú reformu v USA ako nepodarenú. Za najlepšie považuje, keby sa banky v problémoch nezachraňovali, ale jednoducho nechali skrachovať. Zachraňovanie bánk z peňazí daňových poplatníkov nie je vlastné kapitalizmu. Je to štátny zásah do trhu, ktorý umožňuje bankám správať sa nezodpovedne.
V rozhovore Fama tak isto uviedol, že obrovské prepady na akciových trhoch nie sú argumentom proti teórii efektívnych trhov. Táto teória tvrdí, že ceny aktív na trhu (napr. akcií) obsahujú všetky dostupné informácie. Ak by trhy neboli efektívne, videli by sme okolo seba množstvo ľudí, ktorí dokážu zhodnotiť svoje investície lepšie ako je trhový výnos. V skutočnosti je takýchto ľudí nepatrné množstvo, ktorým sa to podarilo náhodou.
English summary: I strongly recommend to watch the discussion with Eugene Fama from the University of Chicago, one of the fathers of modern finance, on the theory of efficient markets and the financial reform in the USA. Professor Fama considers the current financial reform a bad idea. He personally would let the 'too big to fail' banks fail. Bailing them out does not belong to the arsenal of capitalist policies. On the contrary, it is a state intervention into the free market enabling the banks to behave irresponsibly.
Moreover, he mentioned that the current volatility is not a case against the efficient market theory. This theory contends that the asset prices (e.g. stock prices) contain all available information. No one can therefore beat the market with publicly available information as this information is already included in the prices. If markets were inefficient we would see a vast number of people beating the markets. Yet, the reality is a bit different. We do not see such people.
Via Greg Mankiw's blog.
Tags: akcie, efektívne trhy, efficient market hypothesis, Eugen Fama, financial reform, finančná reforma, stocks, University of Chicago